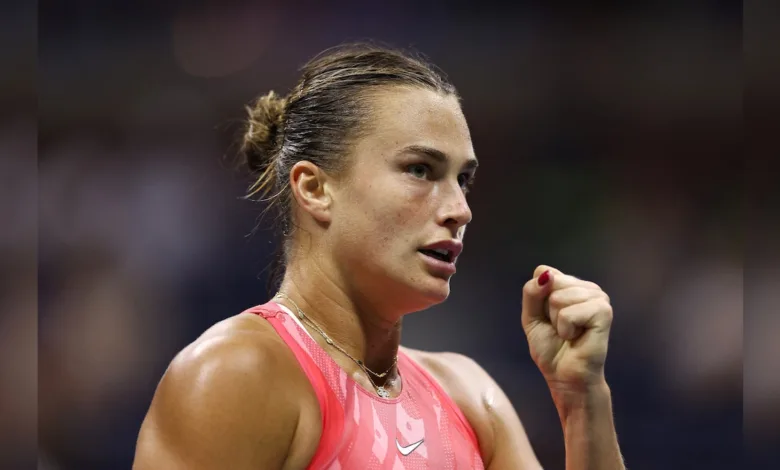 World number one Aryna Sabalenka defeated Elena Rybakina 6-2, 3-6, 6-3 in a rain-disrupted group match on Friday to book a semi-final clash with Iga Swiatek at the WTA Finals. The Belarusian, who finished second in her group behind unbeaten American Jessica Pegula, kept her bid for the year-end number one ranking on track with a victory that took two days to complete. She had won the first set but was trailing in the second when play was halted Thursday night after multiple rain delays.
Some 16 hours later, she and Rybakina returned to the outdoor hardcourts in Cancun, where fourth-ranked Rybakina of Kazakhstan calmly served out the second set to level the match in a matter of minutes.
Australian Open champion Sabalenka dug deep to halt Rybakina's momentum in the opening game of the third set, surviving nine deuces and two break points to hold serve.
She used a pair of ferocious forehands to break Rybakina in the fourth game.
World number two Swiatek then downed sixth-seeded Ons Jabeur 6-1, 6-2 in just 67 minutes to finish top of her group with a perfect 3-0 record.
US Open champion Coco Gauff closed out group play with a 5-7, 7-6 (7/4), 6-3 victory over Wimbledon winner Marketa Vondrousova and advanced to the semi-finals — her place secured after Swiatek's win.
Gauff will face fellow American Pegula in the semi-finals, but it's the clash between Sabalenka and Swiatek that will be in the spotlight.
If Sabalenka wins, she will finish the year ranked number one in the world, but if Swiatek triumphs she could regain the top spot if she goes on to win the title.
It's a rematch of last year's semi-final in Fort Worth, Texas, where Sabalenka won 6-2, 2-6, 6-1.
The two have split their two meetings this season, both on clay. Swiatek, the reigning French Open champion won the Stuttgart final, while Sabalenka took Madrid.
The clash between Gauff and Pegula will be the first all-American semi-final at the elite season-ending event since the round-robin format was reintroduced in 2003.
Blustery winds and intermittent rain again challenged players on Friday.
Gauff shook off multiple rain delays, using an aggressive approach to claim the second-set tiebreaker and continuing to attack in the third.
"Obviously, in the wind, it's tough to be as aggressive as you want, because the bounces are weird and the ball was moving," Gauff said. "So I'm glad I made that adjustment and didn't get too frustrated when I missed. You pay the price for hopefully a good reward."
(This story has not been edited by NDTV staff and is auto-generated from a syndicated feed.)
Topics mentioned in this article
Aryna Sabalenka
Iga Swiatek
Tennis
Source link