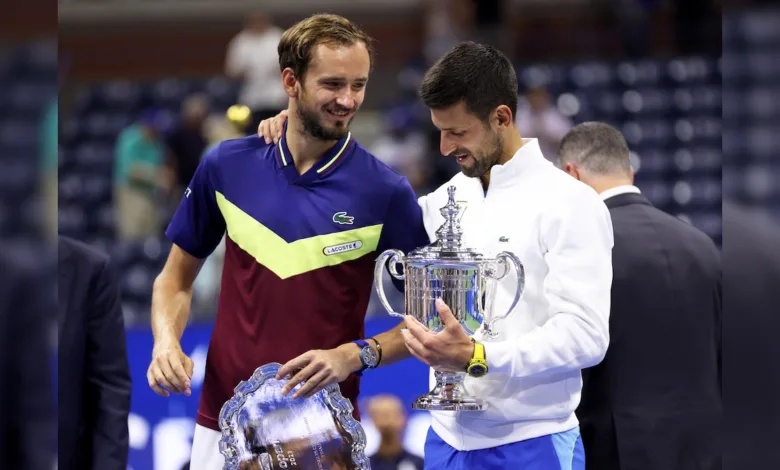 Daniil Medvedev lavished praise on Novak Djokovic after the Serbian star defeated the Russian at the US Open on Sunday for a record-equalling 24th Grand Slam crown. Medvedev, who joined the exclusive club of players to have beaten Djokovic in a Grand Slam final with his victory at the US Open in 2021, was unable to repeat the feat on Sunday. Speaking after Djokovic completed a 6-3, 7-6 (7/5), 6-3 victory to capture his fourth US Open crown, Medvedev revealed how the Serbian great had treated him earlier in his career.
"When we first played I was probably 500th in the world. And he was super kind to me," Medvedev said.
"Nothing special, but he treated me like a normal person. And he still does. Nothing changed: 24, 30, 12 Grand Slams? Nothing changes.
"And I think that's something great about a person you can say."
Medvedev said that beating Djokovic at the US Open final was the greatest achievement of his career to date.
"From one side I can say, and really I find this amazing, that I beat Novak in a Grand Slam final, which probably at this moment is the pinnacle of my career," he said.
"At the same time, maybe if he and Rafa (Nadal) didn't exist … I played five finals against them and I only managed to win one. I don't know if it's good or bad. But you know, [Djokovic] pushes me to be better."
Medvedev meanwhile was left ruing his inability to level Sunday's final at one set apiece after holding a set point in a gripping, 104-minute second set.
Instead, Djokovic saved the set point and forced a tie-break which he would go on to win to take a stranglehold on the match.
"Should have won it," Medvedev said of the second set. "Should have won it, but sometimes tennis is not that easy.
"Second set was the best set I played and I didn't win it. So that's why it's kind of normal that the match went that way.
"Because first and third he was kind of better and not much to say. If I'd won the second, it maybe could have been a different game.
"If I wanted to win the match, I had to win that set."
Medvedev had produced a scintillating display to upset defending champion Carlos Alcaraz in the semi-finals.
But he acknowledged that trying to replicate that quality of performance 48 hours later had been a bridge too far.
"It's not easy to repeat, because against Carlos I played one of best matches of my life," Medvedev said.
"I mean, against Novak here two years ago it's kind of in the same category. It's not that easy to repeat it day in, day out."
(Except for the headline, this story has not been edited by NDTV staff and is published from a syndicated feed.)
Topics mentioned in this article
Source link