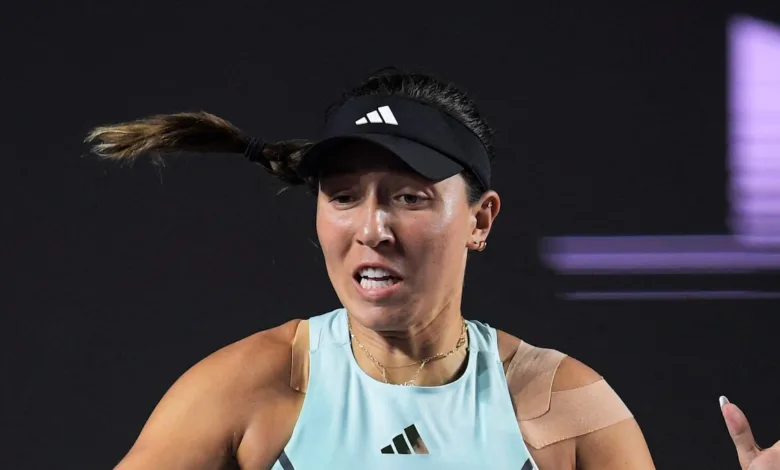 Jessica Pegula beat Coco Gauff on Saturday to reach the WTA Finals title match but continuing weather woes saw Aryna Sabalenka's clash with Iga Swiatek suspended by rain. World number one Sabalenka and number two Swiatek had played just three games when rain blew in, halting a match between players fighting for the year-end number one ranking. If Australian Open champion Sabalenka wins, she'll finish the year atop the rankings, but if French Open champion Swiatek advances and goes on to claim the title she will regain the number one spot.
Whoever wins will have to get past a red-hot Pegula, who has not lost a set on the outdoor hardcourts in Cancun.
Pegula shook off a late rain delay and windy conditions to dispatch US Open champion Gauff, her doubles partner, in an hour.
"I executed what I wanted to do really well," Pegula said. "In the windy conditions, I think it worked even better.
"I was just trying not to get frustrated with my serve or returns or any funky kind of points that we had and just to keep my feet moving."
There was no respite for Sabalenka and Swiatek from the weather that has wreaked havoc all week at the tournament.
They were on serve with Swiatek up 2-1 in the opening set when showers started, the players remaining on the court wrapped in towels amid hopes they would get underway again soon.
Heavier rain, however, saw them sent to the locker room, officials calling a halt to the night shortly after 10 pm local time.
Sabalenka beat Swiatek in last year's WTA Finals semi-finals and has split two clay meetings with the Pole this year, winning at Madrid while falling to Swiatek in the final at Stuttgart.
Pegula is 2-4 in her career against Sabalenka, but beat her earlier this week in round-robin play, and 3-5 against Swiatek.
Gauff, a 19-year-old who took her first Grand Slam title in September on the New York hardcourts, and Pegula met in the first all-US semi-final at the WTA Finals since a round-robin format for the event was restarted in 2003.
Pegula, who captured her seventh consecutive triumph over a top-10 rival, won 10 of the last 11 games and broke six times in a dominating performance, stretching her overall win streak to nine matches.
"The wind is so tough, I feel like I hit hard and flat. If I do that up the middle it's hard for people to create," Pegula said. "If you're going to go out and hit winners in this it's ,like, too good.
"But I don't think anyone can really do that that efficiently."
– WTA responsibility –
Windy and rainy conditions for many matches and issues with the playing surface brought complaints from players all week, prompting WTA Tour chief executive officer Steve Simon to respond to players.
"It is clear you are not happy with the decision to be here in Cancun. I understand that and you have been heard," Simon said.
"It is not a perfect event. We understand the conditions are a challenge and the WTA accepts responsibility for that."
Tennis legend Martina Navratilova called for a change in leadership.
"It shouldn't have come that late in the year making the decision. It was a sequence of bad decisions," she said of the choice of Cancun for an outdoor final.
"Players adjusted. They had to. To come to Cancun in the rainy season? You cannot be hoping it isn't going to rain on the premier event for the WTA Tour.
"You have to own the bad decisions you made and make tough choices after that.
"Maybe it's time for new leadership."
(This story has not been edited by NDTV staff and is auto-generated from a syndicated feed.)
Topics mentioned in this article
Source link